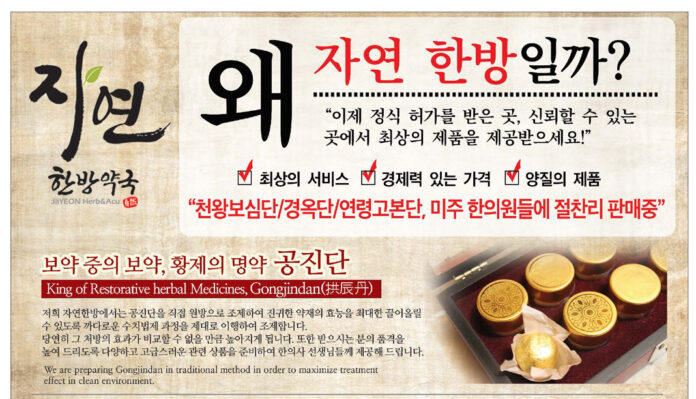 Jayeon Herb and Acupuncture's is holding a spring sales promotion event for 4 different herbal pill shaped formulas; Gongjindan, Yunryunggobondan, Kyungokdan, and Chunwangbosimdan.
Also Jayeon Herb and Acupuncture introduced 2 new products for this season, such as Sangwhawhan and Chungsuikkiwhan.
Sangwhawhan is literally meaning a formula that harmonizes Qi and blood simultaneously and it cures fatigue and common cold symptoms. Chungsuiikwhan is literally meaning clearing heat of summer and enhancing Qi. The formula could be prescribed for a patient with fatigue due to excessive amount of sweating by heat of summer and cools the body down for maintaining good blood and Qi circulation. (T. 714-523-7486)
Click on the image to zoom in.